Mountain biking has gained immense popularity in recent years, with enthusiasts constantly seeking high-performance bikes that can conquer challenging terrains. Privateer, a UK-based manufacturer, has established itself as a brand that offers premium mountain bikes at affordable prices. In their quest to cater to non-professional athletes and provide them with top-notch designs, Privateer has ventured into the competitive world of enduro mountain biking. Their latest offering, the Privateer E-161 electric enduro bike, combines cutting-edge technology with the convenience of electric assistance. In this blog post, we will delve into the features and specifications of the E-161 and explore how it stands out in the ever-growing e-bike market.
Privateer, a UK-based mountain bike manufacturer, has released its first electric mountain bike called the E-161. The E-161 was developed in collaboration with Shimano and features premium technology typically found in race-ready enduro bikes. It is powered by a Shimano EP801 electric motor and has a 630-watt-hour battery. The bike is equipped with a sturdy full-suspension frame, 170-millimeter Fox fork, and Shimano SLX 12-speed transmission. The E-161 is priced at 7,499 Euros ($8,385 USD) and pre-orders are now open with shipping expected to start in August 2023.
The Privateer E161 is an e-MTB designed to serve as the ultimate training tool for Enduro World Cup riders.

It features a Shimano EP801 motor system with 85Nm torque and a 630Wh battery for consistent assistance during training.

The suspension kinematics have been carefully developed to improve small bump sensitivity and provide a smooth and comfortable ride.

The geometry of the E161 includes size-specific chainstay lengths to ensure agile handling and stability across all sizes.

The bike also has clean cable routing, an anodized bashguard for protection, and uses alloy components for durability.
About Privateer E161 E-MTB
The Privateer E161 E-MTB is a game-changer in the world of enduro mountain biking. Designed specifically for Enduro World Cup riders, this e-bike serves as the ultimate training tool, allowing riders to maximize their time on the trail and improve their skills. With its integrated Shimano EP801 motor system and 630Wh Shimano battery, the Privateer E161 provides assistance when needed, making it easier for riders to tackle challenging climbs and spend more time descending. In this blog post, we will explore the key features, build specifications, build rationale, geometry/sizing specs, and FAQs of the Privateer E161 E-MTB.
The purpose of the Privateer E161 E-MTB is to serve as the ultimate training tool for Enduro World Cup riders. It addresses the need for riders to spend more time on their bikes and focus on increasing their time spent descending. The e-bike allows riders to train consistently day after day, even during winter months or between races when they might be tired. With assistance from the integrated Shimano EP801 motor system and 630Wh Shimano battery, riders can maximize their time on the trail and improve their skills.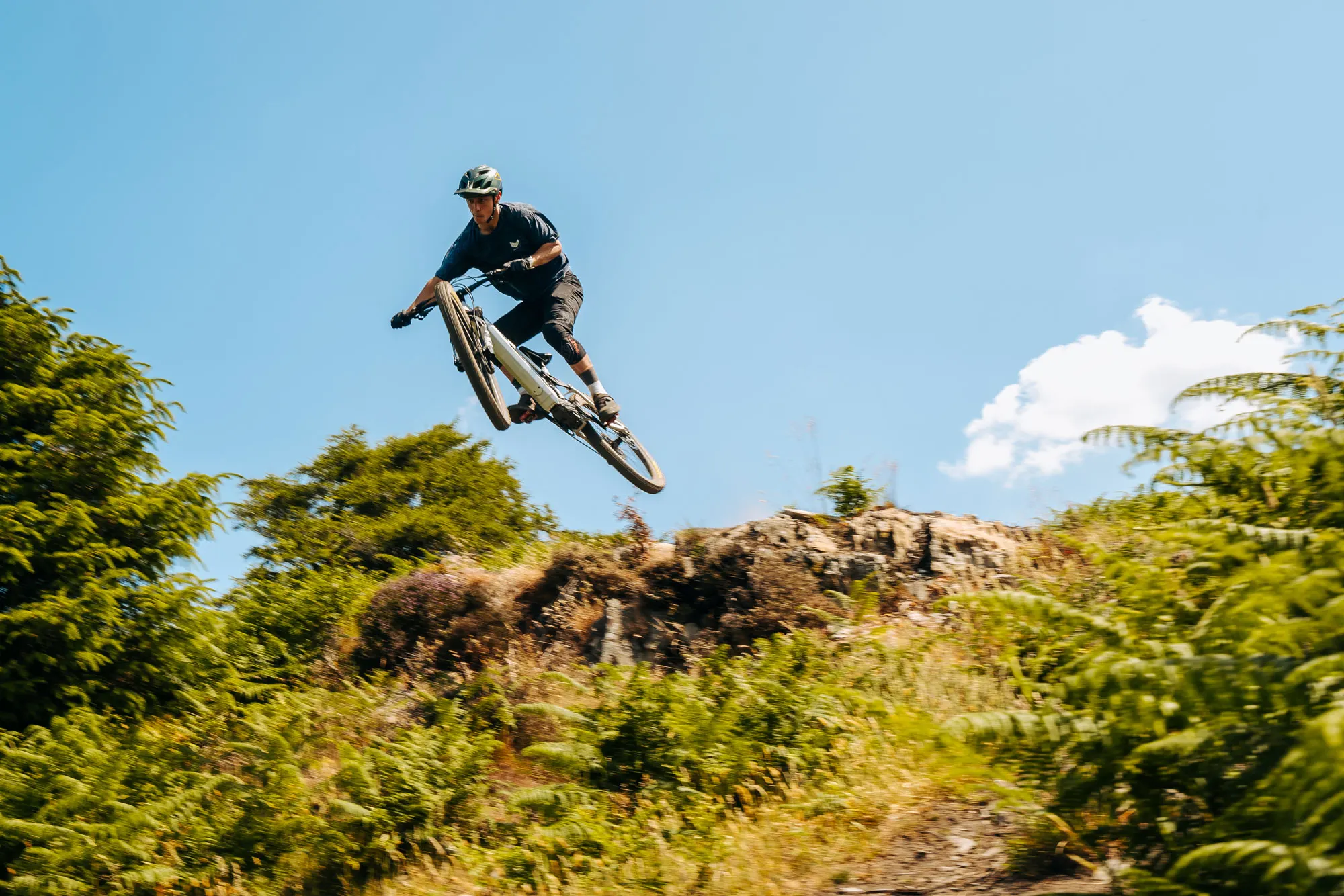 The suspension kinematics of the Privateer E161 have been carefully developed to ensure familiar handling and get the most out of the added motor assistance. Changes have been made to improve small bump sensitivity, providing a smooth and comfortable ride even on rough trails. Increased progression helps resist bottom-outs and offers a more responsive feel to compensate for the additional weight of the motor and battery. Increased anti-rise enhances stability during braking and effectively manages load transfer, resulting in improved control during descents.
The Privateer E161 features a high leverage geometry that offers confidence and responsiveness to riders. The slackened seat angle places the rider over the rear wheel, providing traction on loose, steep climbs where the torque from the Shimano EP801 motor comes into play. The 64-degree head angle keeps the front wheel planted for immense levels of grip. Size-specific chainstay lengths ensure that each size of the E161 shares the same agile handling and stability, allowing all riders to enjoy a high-performance riding experience.
Shimano EP801 Motor System
The Privateer E161 is equipped with the Shimano EP801 motor system, providing 85Nm of torque. The motor can be fine-tuned through the companion application to meet the rider's needs. The compact size of the EP801 allows for excellent handling characteristics while adding uphill assistance for self-shuttle service. The motor system offers three modes: Eco, Trail, and Boost, easily selectable through the on-bar control. A fourth mode called Walk provides a helping hand in hike-a-bike situations.
To ensure strength, reliability, and accurate bearing alignment, the Privateer E161 uses a forged one-piece rocker. This construction method increases overall strength by keeping the grain structure of the alloy intact. It also eliminates the need for welding and heat treating, improving bearing alignment and promoting long life and ease of maintenance.
The Privateer E161 features clean cable routing to ensure ease of serviceability and minimize fuss. While non-assisted bikes usually have external cable routing for easy access, this e-MTB has internal routing for a cleaner look. However, serviceability is still maintained through a large alloy battery cover. All cables are securely fastened within the frame to prevent unwanted rub or rattle.
Frame: 6061 T6 aluminium with integrated motor shell and internal battery housing

Suspension: Fox 38 Performance Elite E-Bike+ (29", 170mm travel) and Fox Float X2 Performance rear shock

Headset: FSA ZS44/ZS56 sealed cartridge bearings

Handlebar: Custom Privateer 35mm diameter, 30mm rise, 800mm wide 6061 alloy

Stem: 40mm, 35mm diameter, black

Grips: Propalm 130mm lock-on grip

Brakes: Hayes Dominion A4 4-piston brakes

Drivetrain: Shimano SLX 12-speed with a wide-range cassette (10-51T)

Wheels: HUNT E_All Mountain (29" front, 27.5" rear)

Tires: Maxxis Assegai (29x2.5", MaxxGrip) and Maxxis Minion DHRII (27.5"x2.4", Maxx Grip)
The build of the Privateer E161 has been carefully considered to provide reliable performance while keeping costs reasonable. The suspension consists of a Fox 38 Performance Elite E-Bike+ fork with Grip 2 damper and a Float X2 Performance rear shock. This offers flagship-level performance while reducing overall build costs, allowing for investment in other essential components.To ensure optimal stopping power and modulation, the e-MTB is equipped with Hayes Dominion A4 brakes. These four-piston brakes offer outstanding reliability with a comfortable lever feel and impressive adjustability.
The drivetrain features a Shimano SLX 12-speed setup with a wide-range cassette, providing adequate gearing options for climbing and descending.
The wheelset chosen for the Privateer E161 is the HUNT E_All Mountain. These alloy wheels are specifically designed for e-MTBs, offering increased torque handling and durability. The combination of a 29" front wheel and 27.5" rear wheel creates a mullet setup that enhances the bike's handling and performance.
Maxxis Assegai and Minion DHRII tires provide excellent traction across a variety of terrain types and conditions. The MaxxGrip, 3CG/TR/DH variants offer superior puncture resistance for aggressive riding.
Geometry/Sizing Specs & FAQs
Chainstay lengths: P1-P2 (446mm), P3 (456mm), P4 (466mm)

Seat angle: 78.7 degrees

Head angle: 64 degrees

Reach: Varies by size (P1, P2, P3, P4)

Wheel sizes: Front - 29", Rear - 27.5"

Frame sizes available: Small (P1), Medium (P2), Large (P3), X-Large (P4)
Premium Components at an Accessible Price Point
Privateer understands the importance of offering high-quality components without breaking the bank. The E-161 is available in a single configuration, featuring mid to high-end components mentioned above. Priced at 7,499 Euros (approximately $8,385 USD), this e-bike provides exceptional value when compared to similar caliber offerings from other manufacturers that often exceed the $10,000 USD mark. Privateer's commitment to making premium designs accessible is evident in the pricing of the E-161.
Pre-Orders and Availability
Excitement for the Privateer E-161 is already building up, with pre-orders now open. The bike comes in two stunning finishes, Black or Raw, allowing riders to choose their preferred aesthetic. Shipping is expected to commence in the first week of August 2023, ensuring those who secure their orders early will be among the first to experience this electric beast on the trails.
With the launch of the Privateer E-161, mountain biking enthusiasts now have access to a high-performance electric enduro bike at an affordable price point. Privateer's collaboration with Shimano has resulted in a powerhouse of a bike, equipped with cutting-edge technology and premium components. Whether you're an aspiring enduro racer or an avid trail explorer, the E-161 offers an exhilarating riding experience that combines power and precision. Embrace the future of mountain biking with Privateer's E-161 electric enduro and unleash your potential on any trail.
Can I remove the battery?
Yes, the battery can be removed using a 4mm Allen key. Simply turn the locking mechanism a quarter turn to release it.